LobbyBrowser
The good internet browser for Windows®
Free of any charges.
Anonymous download.
Full unlimited version.
No hidden downloads, uploads or updates.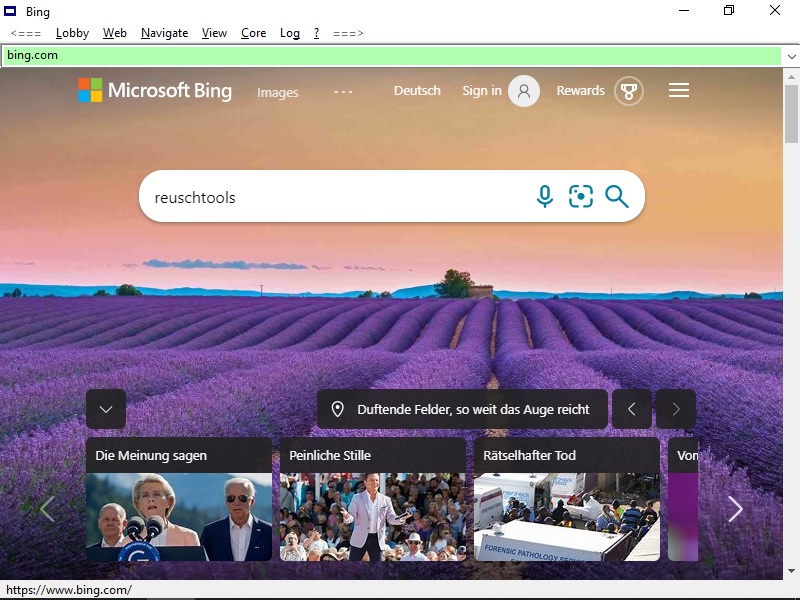 Less than 1 MB to download.
Simple, ad-free, user-friendly, and fast.
Display: Chromium or Internet Explorer. Download a Chromum core here, if it is not include in your Windows® version.
More than 10 Search Engines selectable, enter a search string into the Address-Bar and change the search engine on the fly, to compare the different results. If you would like to listen to music, you could preselect YouTube i.g. as search engine. If you have a question select Wikipedia. You optionally could adapt the search engines menu to your personal needs.
Multi-colored history, to rapidely jump back to a page you have been visiting, or to a search string you have entered.

This is a secure URL you have been visiting
This is an insecure URL you have visited
This is a search string you previously have entered
This is a local URL or a folder or drive
This folder has been opened with the Windows® shell

Super Scroll, hold down the right mouse button to easily scroll through an Internet page.
Boss Key, just hit Esc to exit LobbyBrowser, if you were interrupted. Restart LobbyBrowser later, and you will be back at the same page and scroll position.
Exit and cleanup, hit Alt Delete or select the command from the Lobby Menu. Deletes all personal browser data including History, Cookies and Cache.
Drag and Drop into the Address-Bar, mark a string in an article and drop it into the Address-Bar to instantly launch a search on this subject.
Club Mode, start your YouTube videos instantly in full-screen. Verify that Lobby->Club Mode is enabled.
Adapt Lobby->Playback Rate to speed up or to slow down mp3 or mp4 video streams.
Backspace navigate, hit Backspace to go to the previous URL or search string. Automatically disabled on input pages.
One hand control:

| | |
| --- | --- |
| Full-Screen on/off | Alt W |
| History open/close | Alt S |
| Address-Bar focus/unfocus | Alt A |
| Address-Bar show/hide | Alt D |
| Next Window | Alt Tab |
Download
LobbyBrowser runs good on Windows® 10 and Windows® 11.
Installer and program files are digitally signed. Name of signer:
Arndt Reusch eK
Support
Please report suggestions for improvement and bugs to:
This email address is being protected from spambots. You need JavaScript enabled to view it.
Manual
Address-Bar:
Leave the Address-Bar empty and hit Enter to go to your search engine's start page.
The Address-Bar expands the following shortcuts:
.
www.
*
Computer
no Chromium
*doc
Documents Folder
*url
Favorites Folder
*down
Downloads Folder
*pro
My Profile Directory
*net
Network
no Chromium
*control
ControlPanel
no Chromium
*apps
Apps Folder
no Chromium
Open My Documents with Chromium:
*doc
Append a backslash to open it with the Windows® shell:
*doc\
This opens drive C:\ with Chromium:
C:
Command Line:
LobbyBrowser starts from the command line:
%LB%
You could append everything you would enter into the Address-Bar:
%LB% .reuschtools.com
or
%LB% who has stolen my notebook
Please be aware that the Internet does not know everything.
LobbyBrowser handles URL files:
%LB% *url\General-Anzeiger.url
LobbyBrowser knows some command line switches:
| | |
| --- | --- |
| -i | shell icons |
| -l | shell list |
| -d | shell details |
| -oX | registry slot |
| -p [history file] | public |
Open drive C:\ with the Windows® shell and show a detailed listing:
%LB% -d C:\
Start LobbyBrowser, but save all settings in registry slot 2:
%LB% -o2
Start LobbyBrowser in Public Mode with empty History:
%LB% -p 
Public Mode with predefined History.
%LB% -p *doc\MyHistory.txt
LobbyScreenSaver
You are a hotel manager and have one or more PCs standing in your lobby:
Signalise to the guests passing by that your PCs are running. At the same time show them important information, which is always up to date.
Just browse to your favorite Internet pages within LobbyBrowser i.g.:
Latest weather forecast
Spa opening hours
Today's restaurant menu
Local tourist information
Now select Lobby->LobbyScreenSaver from the LobbyBrowser menu.
Like a common screen saver, the LobbyScreenSaver will start if a PC is idle. If the user moves the mouse, it will stop and the PC will either show the Desktop or the Lock-Screen, depending on your settings.
LobbyScreenBrowser
Same as LobbyScreenSaver. But if the user moves the mouse, the LobbyScreenSaver will
switch to Public Mode.
The user can click on a link to get detailed information on the restaurant menu i.g.
The Windows® shell will not be accessible.
History and settings will not be stored.
After a certain time of idle the PC goes back to the LobbyScreenSaver. If the user exits the LobbyBrowser, the Desktop or the Lock-Screen will show up.
WebView2 Cromium Fixed Version
If you do not want your Chromium core to be updated automatically, you could use a fixed version of WebView2.
Download the fixed version .cab file and extract it to a temporary directory i.g.:

md WV_tmp
expand -F:* Microsoft.WebView2...cab WV_tmp

Copy the content of the Microsoft.WebView2.Fixed... folder into a program folder and create an environment variable:
setx WEBVIEW "C:\Program Files\MyWebView2"
LobbyBrowser should detect the core and show it up in the core menu.